Parish All Access Pass Licensing Agreement
Price: $395.00
By purchasing Parish All Access Pass Licensing Agreement you save $2,384.86 versus the combined cost of the individual lessons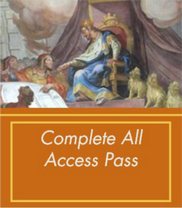 Product Description
Supplement your current religious education program by ordering the CatechismClass.com Parish All Access Pass. Access our full library of resources (including all future programs) for one low flat price.

* Teachers, DREs, and Priests with access to the parish account may login to print course content and use it in the classroom setting, in homilies, or to supplement the parish's current religious education program at an outstanding discount
* The All Access Pass allows parishes to supplement their current program, share ideas from one of the leaders in online catechesis, and integrate resources into the curriculum in a very cost effective way.
* Unlike the standard programs on CatechismClass.com, this All Access Pass does not allow individual students to login and take quizzes. Individual programs or a custom license agreement from CatechismClass.com would allow that.

---
Parish All Access Pass Licensing Agreement contains the following: