Introduction to Religion #10: Forgiveness of Sins
Price: $5.99
This lesson alone is insufficient for a certificate. Please use the Course Selector to determine the proper requirements for this program.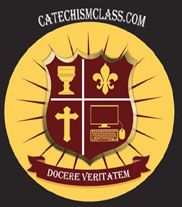 Product Description
In this lesson, we explore forgiveness and mercy. God came to earth to save us. This is a central part of Christianity. But God has given us His established means of how to receive His forgiveness on earth. In this lesson, the final in our introduction to religion course, we explore forgiveness and how important is the Sacrament of Confession. All of us have sinned. We are all working towards the same goal - Heaven. And entering Heaven is only possible for souls in the state of sanctifying grace. Through Baptism, we receive this grace. But when we sin mortally, we lose sanctifying grace. The Sacrament of Confession is how we restore that grace to our souls so we can continue on the path to Heaven.
All CatechismClass Lessons follow our time-tested 7 Step format: Introduction, Opening Prayers, Scripture and Commentary, Catechism Passages, Integration of the Lesson Topic, an activity, and a closing prayer. All course content is self-paced, asynchronous, and always accessible. Access never expires. Quizzes end each of the lessons.
Introduction to Religion #10: Forgiveness of Sins is part of the following course(s):