Miracles #8: The Apparitions of Our Blessed Mother
Price: $5.99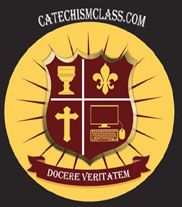 Product Description
Beyond just Rosary miracles, the past 2,000 years have been filled with the continual intercession of the Most Blessed Virgin Mary to those who call upon her. And besides working miracles through the power of the Rosary, we find many other miracles, even some which have occurred in our own lifetimes.
The apparitions of Our Lady of Mount Carmel, Our Lady of Good Success in Ecuador, Our Lady of the Snows in Rome, Our Lady of Guadalupe in Mexico, Our Lady of Lourdes in France, and the miracles through the Miraculous Medal through the apparitions in Paris will all be studied. We will also learn that the very first apparition of Our Lady occurred when she was still alive on earth!
All CatechismClass Lessons follow our time-tested 7 Step format: Introduction, Opening Prayers, Scripture and Commentary, Catechism Passages, Integration of the Lesson Topic, an activity, and a closing prayer. All course content is self-paced, asynchronous, and always accessible. Access never expires. Quizzes end each of the lessons.
Miracles #8: The Apparitions of Our Blessed Mother is part of the following course(s):