St. Michael the Archangel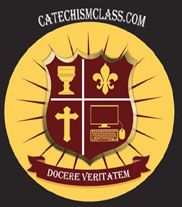 In this lesson we study the 4 roles of St. Michael the Archangel, the nine choirs of angels, the role of St. Michael at the Holy Sacrifice of the Mass, the two traditional feasts dedicated to St. Michael, the apparitions of St. Michael in Italy in the 6th century, and the importance of venerating St. Michael. We will pray the Chaplet of St. Michael and learn the often unknown full-length version of the St. Michael the Archangel Prayer.
All CatechismClass Lessons follow our time-tested 7 Step format: Introduction, Opening Prayers, Scripture and Commentary, Catechism Passages, Integration of the Lesson Topic, an activity, and a closing prayer. Quizzes end each of the lessons.
Buy St. Michael the Archangel for only $3.99
St. Michael the Archangel is part of the following course(s):