12th Grade: Lesson 14: Fear the Lord Yet Be Not Afraid
Price: $3.99
This lesson alone is insufficient for a certificate. Please use the Course Selector to determine the proper requirements for this program.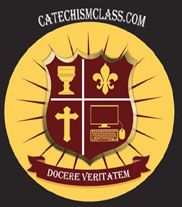 Product Description
With the example of the saints, especially the North American Martyrs, as our guide, we learn what is true and holy Fear of the Lord. We also reflect on the phrase "Be Not Afraid" which are reiterated throughout the Bible approximately 100 times.
All CatechismClass Lessons follow our time-tested 7 Step format: Introduction, Opening Prayers, Scripture and Commentary, Catechism Passages, Integration of the Lesson Topic, an activity, and a closing prayer. All course content is self-paced, asynchronous, and always accessible. Access never expires. Quizzes end each of the lessons.
12th Grade: Lesson 14: Fear the Lord Yet Be Not Afraid is part of the following course(s):