Councils #17: Council of Basel, Ferrara, Florence, and Rome, 1431-1445
Price: $5.99
This lesson alone is insufficient for a certificate. Please use the Course Selector to determine the proper requirements for this program.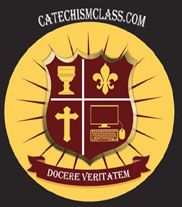 Product Description
The Council of Basle met first in that town, Eugene IV being pope and Sigismund Emperor of the Holy Roman Empire. Its object was the religious pacification of Bohemia. Quarrels with the pope having arisen, the council was transferred first to Ferrara (1438), then to Florence (1439), where a short-lived union with the Greek Church was effected, the Greeks accepting the council's definition of controverted points. The Council of Basle is only ecumenical till the end of the twenty-fifth session, and of its decrees Eugene IV approved only such as dealt with the extirpation of heresy, the peace of Christendom, and the reform of the Church, and which at the same time did not derogate from the rights of the Holy See.
All CatechismClass Lessons follow our time-tested 7 Step format: Introduction, Opening Prayers, Scripture and Commentary, Catechism Passages, Integration of the Lesson Topic, an activity, and a closing prayer. All course content is self-paced, asynchronous, and always accessible. Access never expires. Quizzes end each of the lessons.
Councils #17: Council of Basel, Ferrara, Florence, and Rome, 1431-1445 is part of the following course(s):