Sacred Heart of Jesus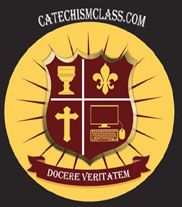 In this lesson we will study devotion to the Sacred Heart by examining Papal encyclicals on the Sacred Heart, the history and spirituality of the Feast dedicated to our Lord's Heart, and finally by learning the prayers suitable in honor of this Feast Day.
All CatechismClass Lessons follow our time-tested 7 Step format: Introduction, Opening Prayers, Scripture and Commentary, Catechism Passages, Integration of the Lesson Topic, an activity, and a closing prayer. Quizzes end each of the lessons.
Buy Sacred Heart of Jesus for only $3.99
Sacred Heart of Jesus is part of the following course(s):