Moral Life #7: The Fullness of the Holy Ghost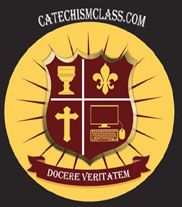 In this lesson we study the effects of one's Confirmation and benefits one receives from the infusion of the Holy Ghost in that Sacrament. The lesson confronts the fundamentalist Protestant ideas of this infilling and the reasons why Catholic teaching is much different.
All CatechismClass Lessons follow our time-tested 7 Step format: Introduction, Opening Prayers, Scripture and Commentary, Catechism Passages, Integration of the Lesson Topic, an activity, and a closing prayer. Quizzes end each of the lessons.
Buy Moral Life #7: The Fullness of the Holy Ghost for only $3.99
Moral Life #7: The Fullness of the Holy Ghost is part of the following course(s):