11th Grade: Lesson 5: In the World but Not of the World
Price: $3.99
This lesson alone is insufficient for a certificate. Please use the Course Selector to determine the proper requirements for this program.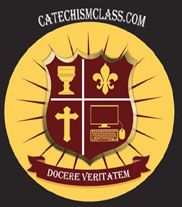 Product Description
In this lesson, we will look at what it means to do what Jesus tells us. We are called by Him to be IN the world, but not OF the world. Jesus used several metaphors for our special role in the world: we are to be the light, the salt, the leaven that will transform the world. The modern world is experiencing a time of darkness as sin escalates. Nowadays, sexual pleasures and greediness have replaced true joy. It may seem difficult to envision our role. But Christians can make a difference.
All CatechismClass Lessons follow our time-tested 7 Step format: Introduction, Opening Prayers, Scripture and Commentary, Catechism Passages, Integration of the Lesson Topic, an activity, and a closing prayer. All course content is self-paced, asynchronous, and always accessible. Access never expires. Quizzes end each of the lessons.
11th Grade: Lesson 5: In the World but Not of the World is part of the following course(s):