Councils #1: Council of Nicea, 325
Price: $5.99
This lesson alone is insufficient for a certificate. Please use the Course Selector to determine the proper requirements for this program.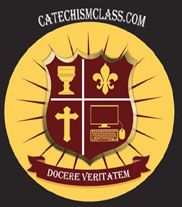 Product Description
The Council of Nicaea lasted two months and twelve days. Three hundred and eighteen bishops were present. Hosius, Bishop of Cordova, assisted as legate of Pope Sylvester. The Emperor Constantine was also present. To this council we owe the Nicene Creed, defining against Arius the true Divinity of the Son of God (homoousios), and the fixing of the date for keeping Easter (against the Quartodecimans).
All CatechismClass Lessons follow our time-tested 7 Step format: Introduction, Opening Prayers, Scripture and Commentary, Catechism Passages, Integration of the Lesson Topic, an activity, and a closing prayer. All course content is self-paced, asynchronous, and always accessible. Access never expires. Quizzes end each of the lessons.
Councils #1: Council of Nicea, 325 is part of the following course(s):