11th Grade: Lesson 7: Knights for Christ and the Glory of the Transfiguration
Price: $3.99
This lesson alone is insufficient for a certificate. Please use the Course Selector to determine the proper requirements for this program.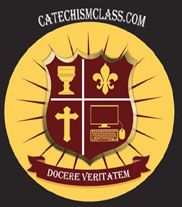 Product Description
In this lesson we will look at the Glory of God's Kingdom which three apostles witnessed clearly on Mt. Tabor during the Transfiguration of Jesus. Meanwhile the true King of Kings is here and calls us to rise up and come follow Him. In this chapter we will look at modern opportunities to become Knights and supporters of the Knights.
All CatechismClass Lessons follow our time-tested 7 Step format: Introduction, Opening Prayers, Scripture and Commentary, Catechism Passages, Integration of the Lesson Topic, an activity, and a closing prayer. All course content is self-paced, asynchronous, and always accessible. Access never expires. Quizzes end each of the lessons.
11th Grade: Lesson 7: Knights for Christ and the Glory of the Transfiguration is part of the following course(s):