Councils #5: Council of Constantinople, 553
Price: $5.99
This lesson alone is insufficient for a certificate. Please use the Course Selector to determine the proper requirements for this program.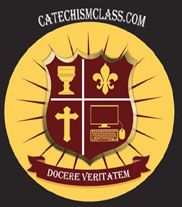 Product Description
The Second General Council of Constantinople, of 165 bishops under Pope Vigilius and Emperor Justinian I, condemned the errors of Origen and certain writings (The Three Chapters) of Theodoret, of Theodore, Bishop of Mopsuestia and of Ibas, Bishop of Edessa. The Council further confirmed the first four general councils, especially that of Chalcedon whose authority was contested by some heretics.
All CatechismClass Lessons follow our time-tested 7 Step format: Introduction, Opening Prayers, Scripture and Commentary, Catechism Passages, Integration of the Lesson Topic, an activity, and a closing prayer. All course content is self-paced, asynchronous, and always accessible. Access never expires. Quizzes end each of the lessons.
Councils #5: Council of Constantinople, 553 is part of the following course(s):