Quinceañera Preparation Program
Price: $19.99
By purchasing Quinceañera Preparation Program you save $9.96 versus the combined cost of the individual lessons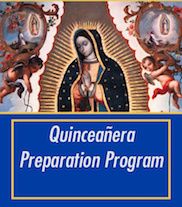 Product Description
The CatechismClass.com Quinceañera Preparation Program is designed to prepare girls for their Quinceañera. This program focuses on understanding the importance of the Quinceañera from a religious perspective, which ensures that the student understands the basics of the Catholic Faith before this life milestone. Focus is put on the Sacraments and the future responsibilities post-Quinceañera for the girl.

In this course, you will learn:

The importance of living a holy, Catholic Life
A refresher on the Catholic Faith and our purpose in life
The importance of prayer and living a moral life, as well as the essence and significance of the Holy Mass.
Why the Sacraments are so essential for salvation
The celebration of the quince años and it's importance in a young Catholic woman's life.
Personalized mentoring and correspondence with Certified Catechists is also available. Our number one goal is to prepare our students and we are here to help you and mentor you every step of the way.
All CatechismClass Lessons follow our time-tested 7 Step format: Introduction, Opening Prayers, Scripture and Commentary, Catechism Passages, Integration of the Lesson Topic, an activity, and a closing prayer.
---
Quinceañera Preparation Program contains all of these lessons:
Quinceañera Preparation Program is part of the following Package(s):
Purchase this Course in a package with other Courses and save even more !