Councils #19: Council of Trent, 1545-1547, 1551-1552, 1562-1563
Price: $5.99
This lesson alone is insufficient for a certificate. Please use the Course Selector to determine the proper requirements for this program.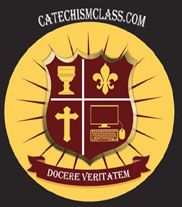 Product Description
The Council of Trent lasted eighteen years (1545-1563) under five popes: Paul III, Julius III, Marcellus II, Paul IV and Pius IV, and under the Emperors Charles V and Ferdinand. There were present 5 cardinal legates of the Holy See, 3 patriarchs, 33 archbishops, 235 bishops, 7 abbots, 7 generals of monastic orders, and 160 doctors of divinity. It was convoked to examine and condemn the errors promulgated by Luther and other Reformers and to reform the discipline of the Church. Of all councils it lasted longest, issued the largest number of dogmatic and reformatory decrees, and produced the most beneficial results.
All CatechismClass Lessons follow our time-tested 7 Step format: Introduction, Opening Prayers, Scripture and Commentary, Catechism Passages, Integration of the Lesson Topic, an activity, and a closing prayer. All course content is self-paced, asynchronous, and always accessible. Access never expires. Quizzes end each of the lessons.
Councils #19: Council of Trent, 1545-1547, 1551-1552, 1562-1563 is part of the following course(s):