Vigil of the Immaculate Conception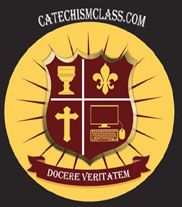 The Immaculate Conception is a dogma of the faith stating that Mary was conceived sinless in the womb of her mother, Saint Anne, and Mary remained without sin throughout her entire life. In this lesson we will study the Immaculate Conception as well as the devotions for the Vigil of the Immaculate Conception, which is traditionally a day of fasting and partial abstinence from meat.
All CatechismClass Lessons follow our time-tested 7 Step format: Introduction, Opening Prayers, Scripture and Commentary, Catechism Passages, Integration of the Lesson Topic, an activity, and a closing prayer. Quizzes end each of the lessons.
Buy Vigil of the Immaculate Conception for only $3.99
Vigil of the Immaculate Conception is part of the following course(s):