Life of Christ #3: Nativity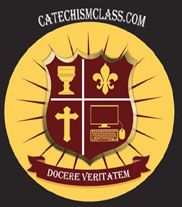 This is our third lesson in a series of lessons that will examine the Life of Our Lord Jesus Christ, with specific lessons focused on each of the mysteries of the Rosary. In this lesson we study our Lord's birth, the perpetual Virginity of Mary, the Feast of the Epiphany, Catholic customs for Christmastide, and the moral implications of the Holy Innocents. Learn the story of the Nativity through a truly Catholic lens.
All CatechismClass Lessons follow our time-tested 7 Step format: Introduction, Opening Prayers, Scripture and Commentary, Catechism Passages, Integration of the Lesson Topic, an activity, and a closing prayer. Quizzes end each of the lessons.
Buy Life of Christ #3: Nativity for only $3.99
Life of Christ #3: Nativity is part of the following course(s):
Other Courses similar to Life of Christ #3: Nativity: