St. James the Greater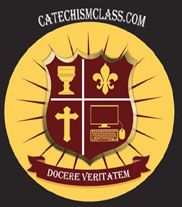 St. James, the Son of Zebedee, (known as St. James the Greater) was the brother of St. John the Apostle. Saint James and his brother John were among the first apostles called by Jesus. The two brothers and St. Peter witnessed many of the most important events of Jesus' life including the Transfiguration and the Agony in the Garden. Saint James was the first to die among the Apostles. In this lesson, we will study the life of St. James the Greater as presented in the Gospels, in the writings of the Church Fathers, and in the Catechism. We will also learn several prayers to him and have an engaging activity in honor of St. James.
All CatechismClass Lessons follow our time-tested 7 Step format: Introduction, Opening Prayers, Scripture and Commentary, Catechism Passages, Integration of the Lesson Topic, an activity, and a closing prayer. Quizzes end each of the lessons.
Buy St. James the Greater for only $3.99
St. James the Greater is part of the following course(s):