St. James the Lesser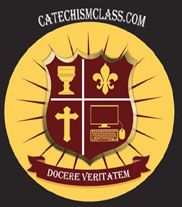 St. James the Less, the Son of Alphensus, went on to serve as the Bishop of Jerusalem after our Lord's Resurrection. He was part of the Jerusalem Council that decided which dietary restrictions and Jewish customs the new Gentile converts had to follow. His Epistle is part of the Bible and often quoted in Papal encyclicals. His time on earth was devoted to spreading the good news of Jesus by preaching and writing and through administering the Sacraments. In this lesson, we will study the life of St. James the Lesser as presented in the Gospels, in the writings of the Church Fathers, and in the Catechism. We will also learn several prayers to him and have an engaging activity in honor of St. James.
All CatechismClass Lessons follow our time-tested 7 Step format: Introduction, Opening Prayers, Scripture and Commentary, Catechism Passages, Integration of the Lesson Topic, an activity, and a closing prayer. Quizzes end each of the lessons.
Buy St. James the Lesser for only $3.99
St. James the Lesser is part of the following course(s):