Councils #20: Vatican I, 1869-1870
Price: $5.99
This lesson alone is insufficient for a certificate. Please use the Course Selector to determine the proper requirements for this program.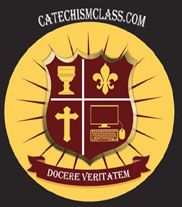 Product Description
The Vatican Council was summoned by Pius IX. It met on December 8, 1869, and lasted until July 18, 1870, when it was adjourned. It is still unfinished. There were present 6 archbishop-princes, 49 cardinals, 11 patriarchs, 680 archbishops and bishops, 28 abbots, 29 generals of orders, in all 803. Besides important canons relating to the Faith and the constitution of the Church, the council decreed the infallibility of the pope when speaking ex-cathedra.
All CatechismClass Lessons follow our time-tested 7 Step format: Introduction, Opening Prayers, Scripture and Commentary, Catechism Passages, Integration of the Lesson Topic, an activity, and a closing prayer. All course content is self-paced, asynchronous, and always accessible. Access never expires. Quizzes end each of the lessons.
Councils #20: Vatican I, 1869-1870 is part of the following course(s):