Mass #12: Sacred Triduum Liturgies
Price: $5.99
This lesson alone is insufficient for a certificate. Please use the Course Selector to determine the proper requirements for this program.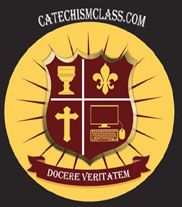 Product Description
This is our twelfth lesson in a series of lessons that will examine the Holy Sacrifice of the Mass. In this lesson we will study the Theology and the Rubrics for the holiest days in the year in the context of the Mass - Holy Thursday, Good Friday, and Holy Saturday. We will also cover Palm Sunday and our Lord's last entry into Jerusalem.
The Paschal Triduum, also known as the Easter Triduum, begins with the Mass of Holy Thursday, includes the commemoration of our Lord's Death on Good Friday, and ends with the Easter Vigil on Holy Saturday. It is the summit of the entire Liturgical Year and the culmination of Lent. The week begins with Palm Sunday, which begins Holy Week. The Triduum marks the end of Holy Week. These holiest days lead into Easter Sunday, the holiest of all Christian holidays when we celebrate our Lord's own Resurrection.
All CatechismClass Lessons follow our time-tested 7 Step format: Introduction, Opening Prayers, Scripture and Commentary, Catechism Passages, Integration of the Lesson Topic, an activity, and a closing prayer. All course content is self-paced, asynchronous, and always accessible. Access never expires. Quizzes end each of the lessons.
Mass #12: Sacred Triduum Liturgies is part of the following course(s):
Other lessons similar to Mass #12: Sacred Triduum Liturgies: