Young Adult RCIA
Price: $79.95
By purchasing Young Adult RCIA you save $230.49 versus the combined cost of the individual lessons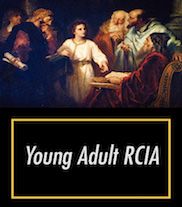 Product Description
The Young Adult RCIA Program is meant for young adults to study to enter the Catholic Faith as well as for those young Catholics who need to catch up for several years of missed religious education. This course is intended to be used by children as an RCIC (Rite of Christian Initiation of Children) who are between the ages of 8 and 14. It is intended for children to use this course with a parent or instructor for optimal learning.

In this course, you will learn:

The elements in the Apostles' Creed and an explanation of all 12 articles of the Creed
An in-depth analysis of the Seven Sacraments and the Role of the Church in God's plan of salvation
A study of the Commandments of God and of the Church
An explanation of the Holy Mass
A study of the Old and New Testaments
Much more! This is the most complete RCIC program out there and it's also user-friendly and includes all quiz grading and record keeping in the price!
All CatechismClass Lessons follow our time-tested 7 Step format: Introduction, Opening Prayers, Scripture and Commentary, Catechism Passages, Integration of the Lesson Topic, an activity, and a closing prayer. Each lesson ends with a quiz to assess student performance. Upon completion of all of the lessons, your student may receive a CatechismClass.com Certificate of Completion.
---
Young Adult RCIA contains the following: